When users come to see your artist page on Deezer, it's important that it looks exactly how you want it to. We've made it easy for you to update it on Deezer for Creators, including setting an artist message that can be communicated globally to your fans!
Keeping your artist page updated with the latest news is an important part of growing your audience and letting them know where to access up to date content. Additionally, the ability for you to post messages to your fans allows you to create a direct line of authentic content.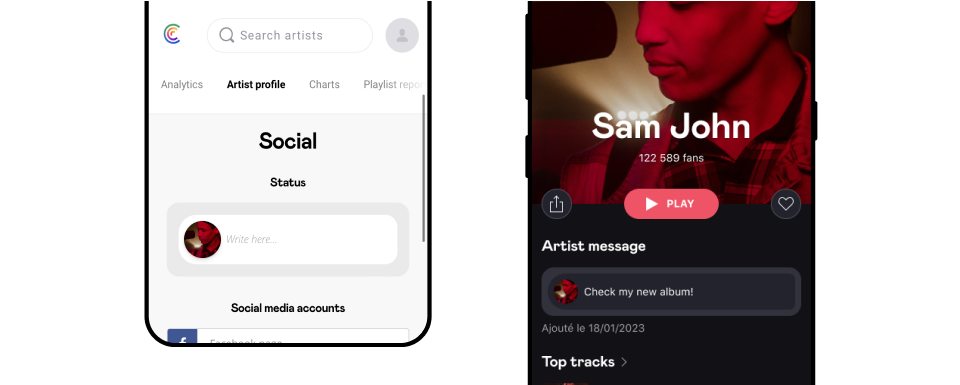 ---
How to update your artist profile and set an artist message
On the desktop version of Deezer for Creators, select Artist profile from the tab bar
Note: If you're attributed to several artists, you will need to type the name of the artist you want to edit in the search bar to update their artist page
From here you can update your profile picture by selecting the camera icon, your social media links, any content highlights by selecting the plus icon (explained below), and your biography.
To update your artist message:
Click in the message box under the

Social section and enter your text - please note that there is a 120 character limit
Once submitted, the message will appear immediately at the top of your artist page and will be visible to all users
Note: Any messages older than six months will be removed
---
Content Highlights
Content highlights allows you to show the content that you want users to discover first. This can be an album, a playlist, an episode, or a podcast. You can make the highlight visible in specific countries and attach a date range to it- just to make sure the same content isn't there forever.